I recently joined the Ultimate Camargue Tour with Create Away and I have to say it was one of the best photographic experiences I've had. The white horses were stunning and we were so close to them – each day brought a new angle and a bit of variation was added by stampeding bulls and portrait shoots. We were well looked after outside of the shoots by Ros and Serge is a great teacher. Don't miss it!
STEVE BURTON
Ultimate Camargue
Reviews are often difficult to write objectively, but Create Away provided an excellent platform that genuinely was exactly (and more) that was stated on its website and pre-departure literature. The extended family atmosphere was relaxing and demanding at the same time. The photo shoot opportunities were frequent, beautifully lit and action packed. Serge provided very helpful advice when needed, to ensure that, whatever your photographic ability, you came away from the tour with some excellent photographs. The itinerary was flexible enough to capitalise upon nature, the weather and presenting ground conditions, without losing sight of the main objectives, beautiful photographs. Indeed, magical!
MELISSA, UK
Camargue, Provence Villages & Lavender
What a fabulous week! Communication and arrangements from Ros were perfect, looking after my every need, as well as great restaurant recommendations. As for the photography, huge thanks to Serge for planning such a brilliant programme, with so many different settings and shooting with the best light every day, making a difference to the quality of the photographs. I also appreciated the assistance and help wading in marshy water, making us feel safe and comfortable. I have never had so many thrilling experiences in such a short time and memories that will last a lifetime.
KARIN WILSON
Camargue Wildlife and Festival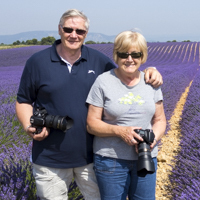 Provence Lavender & Luberon Villages
We visited vast fields of lavender, sunflowers and wheat. The early starts and late evenings were well worth the effort. Provence villages are amazing in the early light. Serge not only took us to perfect locations but adjusted camera settings to make things more user friendly. Serge and Ros, as ever, were brilliant hosts. Their choice of restaurants and help with the French menus was fantastic. Couldn't have been better.
Saint Tropez Super Yachts
Thanks again for your extraordinary efforts to make my trip a memorable one – your entire team reeked of caring professionalism and you provide an outstanding package. My third trip and I'll be back for more!
I enjoyed the workshop very much and by far it was the best one I have attended. I have so many amazing images, I'm struggling to select them. The highlight was the photoshoot with the Single Stallion in the sea, on the beach and rearing on the sand dunes. The hotel was beautiful and set in a wonderful mediaeval town and we enjoyed great food and wine too. I would definitely come back and recommend it to others.
I have been wanting to photograph the Camargue horses for a few years now. And finally, during a road trip in the south of France, I had a day available to try and squeeze in something. I was not interested in any multi-day workshop and was not looking for photography specific lessons, rather I wanted access to the beautiful horses. After extensive research, I discovered and reached out to Create-Away. Ros replied promptly and had been phenomenal from day 1, offering options, helping me customize my plan, and coordinating next steps. Fast forward, and I had the pleasure of meeting Serge on the first evening of my photoshoot and the following morning. He was an absolutely gentleman, a brilliant photographer, and I thoroughly enjoyed meeting him. He made sure I had the opportunity to photograph the horses just the way I wanted. What I experienced, undoubtedly required a lot of coordination, and for that I am very grateful. Serge also coordinated a couple of unique locations with the Camargue guardians, and when I wanted his thoughts, he readily offered his technical expertise and recommendations. I could not have asked for more – an amazing and unforgettable experience! Many thanks to Serge, Ros and the Create-Away team for accommodating my request and making everything possible on a fairly short notice!
I felt from the moment that I made my first exploratory email enquiry, that we were in for a great trip. Create Away is a small and very personal team that organized and delivered an amazing experience for us. I have quite a few years of experience, but my daughter was returning to photography after a long break. We were both so well looked after. I learned to shoot in manual (after years of AV and TV) …… and so did my daughter. Lovely hotel, great extra trips, a beautiful local area and we both came back with some amazing images. I was particularly grateful for the extra trouble taken to accommodate some extra requirements for us. Thank you.
Ultimate Wild White Horses
Imagine photographing beautiful white horses racing along a beach with the spray from their hooves flying high, while Guardians dressed in traditional garb speed along nearby, shouting, "Allez! Allez!" as they expertly guide the horses for the best photo opportunities. You know you have the correct camera settings because Serge is right next to you, constantly checking the changing conditions, and shouting out any adjustments. After an exciting morning or evening of shooting the beautiful horses, you return to your hotel within the medieval walls of historic Aigues-Mortes, download your photos, dine at one of the many wonderful restaurants, and get ready for the next shoot. The team at Create-Away provide a unique travel experience for you; they live in the area, which gives them access to the best locations for your photoshoots, and they can also recommend the perfect hotel and restaurants during your stay. They are professional and a delight to work with, and I'm looking forward to traveling with them again.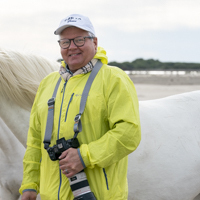 Thank you for an amazing weekend. I truly enjoyed the opportunity to meet you and to view and photograph the Camargue wildlife. Your level of professionalism went way beyond expectations and the assistance you provided in arranging accommodations and my departure Covid test was most appreciated. I am just amazed looking at the spectacular images I was able to capture and none of that would have been possible without your guidance. I also appreciate the communication throughout the process so I would know what to expect and how to prepare for this "bucket list" photo safari.